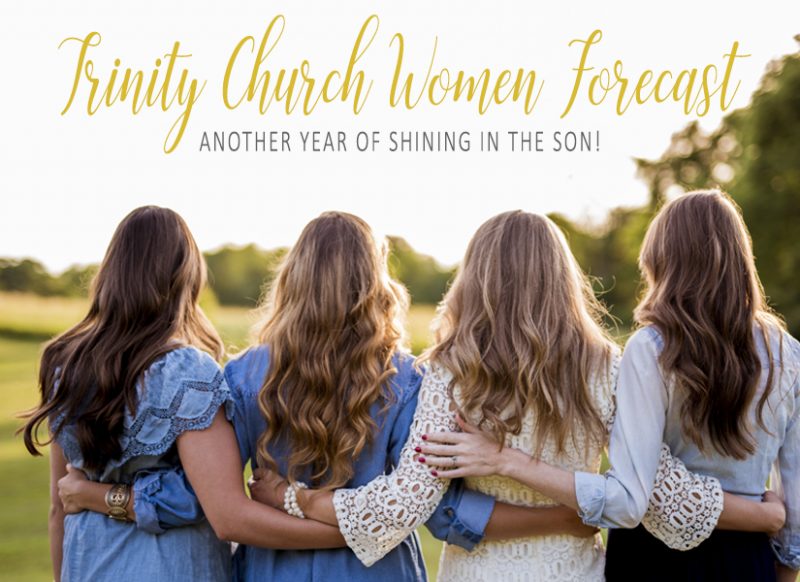 Trinity Church Women thrives on our certainty that the sisterhood we have in Christ has transforming power for our lives and the lives of those with whom we are blessed to connect. We believe that this sisterhood can create a culture of grace which, through our obedient efforts, can permeate the entire church. The witness of the unity this creates will be our reward and our testimony of Christ's victorious presence.
In the year ahead, we are forecasting many opportunities and activities that will allow us to shine in the Son and experience the abundantly more that He offers us. TCW will host an evening of small group gatherings in October followed by two large group events to celebrate a very Mary Christmas and later, on Derbe Day, to cheer one another on to the winner's circle. February will bring our first ever Be-treat. This will offer the encouragement and good company of a women's retreat but will 'be' held right at home in beautiful Trinity Church- not a staycation but a betreat. You'll wanna 'be' there for this cabin fever antidote. Watch for more details on our Facebook page (link below).
As always, on-going ministries will be encouraged, with expansion to new support groups as needs are identified. Existing groups and ministries are listed in "Find a Group" under "Women". If however, you don't find a group specific to your interests, let's form a group! Trinity Church Women is looking forward to the new year in Christ and we invite you to join us in reflecting the Son. Shine on!
For more information, contact Lee Bigler, Women's Ministry Coordinator