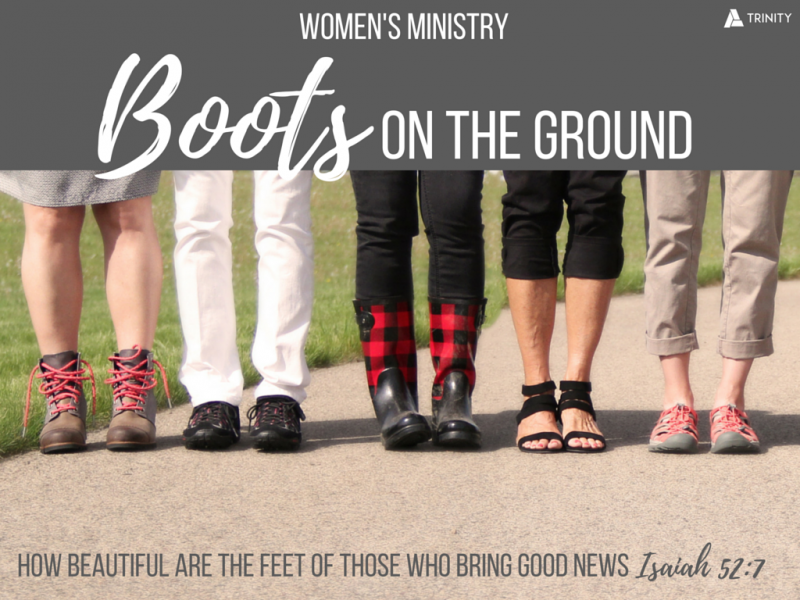 Trinity Women's Ministry thrives on our certainty that the sisterhood we have in Christ has transforming power for our lives and the lives of those with whom we are blessed to connect. We believe that this sisterhood can create a culture of grace which, through our obedient efforts, can permeate the entire church and express itself in works of service. The witness of the unity this creates will be our reward and our testimony of Christ's victorious presence.
In this new season, we will intentionally apply our faith and resources to joyful action as we put "boots on the ground" and draw more and more of Trinity's women to find an intake for Biblical truth and an outlet for active Christian service. We want to provide a glad and gracious environment so that every woman may be filled to spill into others in a way both authentic and compelling.
This year the MN interjection, UFFDAH, becomes the WM acronym as we live out the challenge to be Unoffendable Faith-filled Followers Devotedly Answering Him. Unoffendable, as we practice ferocious grace-giving; Faith-filled Followers, as we gather regularly to study and strive for depth and power in the knowledge of Christ; and Devotedly Answering Him, as we receive marching orders to put boots on the ground and serve our church and our community.
On-going ministries will be encouraged, with expansion to new support groups as needs are identified. Existing groups and ministries are listed in the Find a Group under Women. If however, you don't find a group specific to your interests, let's form a group!
Women's Ministry is on the move. Our boots are on the ground and our hearts and minds are seeking the fullness of God's will for us. Lace up and fall in!
For more information, contact Lee Bigler, Women's Ministry Coordinator